Head. Heart. Vision.
"The only way to break through our blind spots is by gathering and talking."
–Ross Baird, Village Capital, Bonfire 2017
The definition of a blind spot is something we often can't see in ourselves, but all too frequently find easy to see in others. I've spent a lot of time this past month looking in the rearview mirror – something we all do as that calendar year rolls forward to the next. And, damn, what a year, it's been. I've watched my boys grow older and more capable. I've watched myself grow older and, well – hopefully more capable. I've witnessed outcomes from our divided nation, a caustic industry, and a stressed humankind in nearly all corners and swaths of our country. It has been a divisive year, regardless of your race, gender, or political leanings – filled with tension, teeth grinding, eyes opening, and what may be the start of a tectonic shift in our culture. All easy to see in others, but hard to see in ourselves.
In reflecting on how our collective personal and professional blind spots impact our perspective as leaders in the tech industry, our ability to collaborate and respect one another, and the future that lies ahead – I'm cautiously optimistic that we can move forward with a clearer view.
Let's not be fooled- blind spots, we all have them. For those of us gathered at Bonfire 2017, we shared a palpable nudge to look deeper. I'm humbled by the collective wisdom and collaboration that effortlessly came forth at this year's event. Rather than sit back as passive bystanders, we stood up, gathered and talked (a lot) about how we can help create and deliver authentic change and progress across our industry – in our regions and beyond.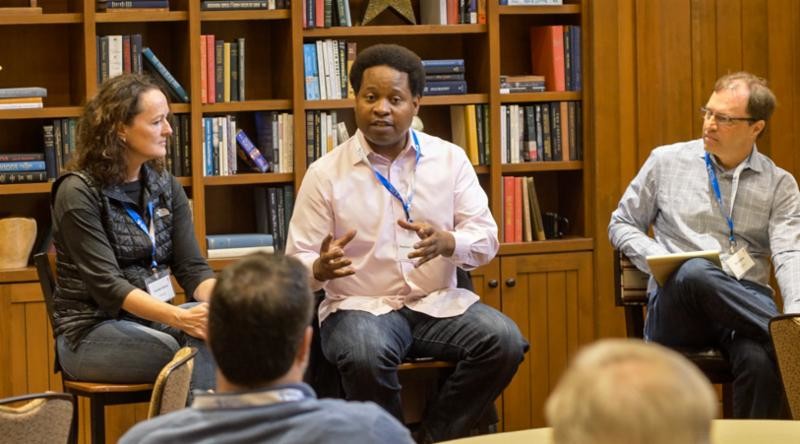 We've started something here, you're part of it… and we have many miles ahead. At Seven Peaks Ventures, we will be expanding upon the Bonfire platform and developing opportunities for further dialogue and connections; keep an eye out for the Bend Bonfire Podcast series kicking off in 2018!
It is with a mother's heart and an investor's wary eye, sprinkled with a whole lot of grit and optimism, that I am proud to hold my seat at the Bonfire – the corners are less sharp and the dialogue is flowing.  Cheers to 2018.
J. Corey Schmid : General Partner, Seven Peaks Ventures